Sailpast at Ashmount 28th to 30th May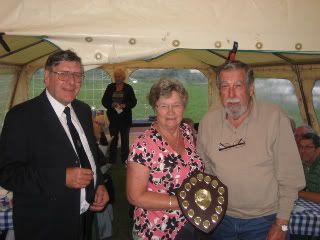 The annual ODCC Sailpast took place at Ashmount house last weekend and was attended by 10 boats, White Velvet, Wight Panther, La Coquine, Pheran, Shirlian, Merlin, Winning Spirit, Aquarelle, Boudicca and Zesty. Our hard working catering staff did us proud again with two fine 4-course meals, breakfasts and afternoon teas, with a new for this event "Ditch mud" dessert !
The Concours d'Elegance was won by "Pheran" well done Chris and Anne (see photo above).
More photos's of the event can be found in the gallery.