Ashmount Rally Report.
There was a good turn out for the Ditch's mid-summer rally held over the weekend of 23/24 July. Ten boats, Boudicca, La Coquine, Lady Lara, Legacy, Loves Lights, Pheran, Shirlian, White Velvet, Wight Panther and  Zesty lined the Ashmount House frontage with Derek Farrow and Marion, Derek Crombie and Pat and Fred Turner attending in their respective 'land ships'. We had a bit of everything the British summer weather has to offer but overall, it was reasonably kind to us. At least we were all in the marquee when the rain arrived! 
With our catering stalwarts Emma and Kay both away, we relied on Messrs Waitrose to supply and deliver a cold buffet for the meal on Saturday evening which proved to be an excellent choice. And in place of the usual after-dinner entertainment of a raffle, quiz or similar, we were treated to the keyboard and vocal talents of Tony Riley.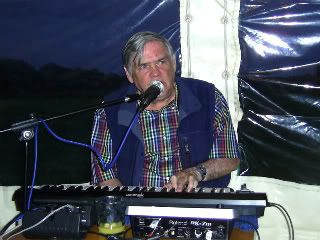 This went down  very well, to the extent that for the first time, in my memory at least, several members, felt compelled to get up and dance!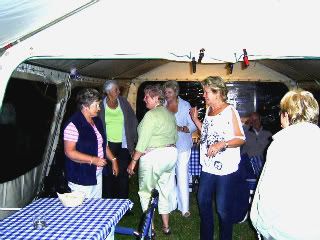 All in all, a very enjoyable if too short weekend, given there was no Bank Holiday Monday to provide the extra day.
Chris & Ann  (Pheran)