Informal Lunch at the Four Pillars Abingdon 14th April 2013
The annual lunch was well attended last Sunday, Chris Seeney (Pheran) has writtian a short account of the event.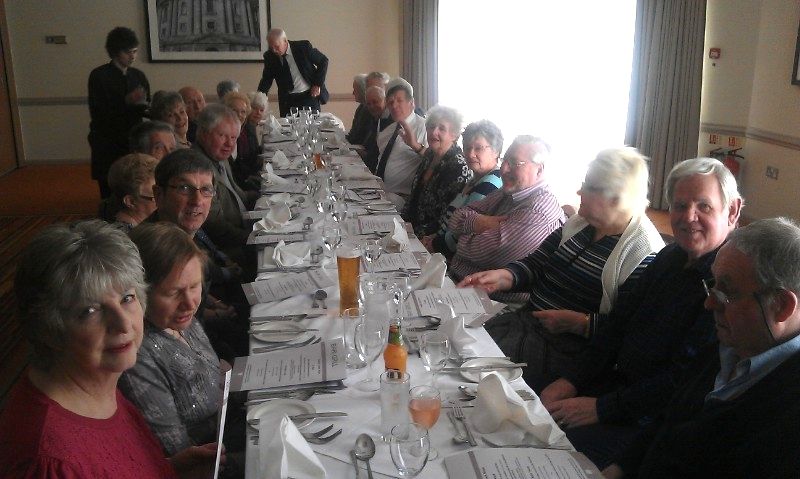 A personal perspective – by Chris Seeney
Was it  Divine Intervention, or the sun shining on the righteous? Or perhaps it was pure coincidence. Whatever, after months of snow, wind, rain and cold, it was a joy to have a warm, sunny day for the Club's informal 'lunch out'. So it was that some  24 stalwarts met at the Four Pillars in Abingdon on Sunday 14 April, some travelling great distances from those forbidding and uncharted lands that some say lie north of Oxford. There we enjoyed an excellent lunch in very pleasant surroundings with the only minor downside being the queues that formed at the carvery. I suppose that's inevitable in a venue as popular as this.
Having been asked to provide a report of the event, I realised I had been handed a Poisoned Chalice. Barring disasters, and there were none, what can you usefully say about a lunch beyond 'we arrived, we ate and we went home again' (although I hope you appreciate the efforts I am making to pad this one out!!) So just a couple of observations. It is, perhaps, stating the obvious if I say none of us is getting any younger. Indeed, I noticed there were a couple more walking aids in evidence. What hasn't changed, however, is the friendliness and bonhomie for which our Club is rightly noted. We were lucky enough to be accommodated in one of the separate, private dining rooms, away from the madding crowd, which was probably just as well given the constant buzz of conversation, laughter and good humoured banter. Everyone seemed to enjoy themselves and it proved to be a very good turnout for this sort of event given everything else that is going on in people's lives and making demands on our time.
I now need to go carefully. The problem is when I get started on something like this, I could go on for ever (and I can just hear Fred Turner or Bob Tanner saying 'and you usually do'). So I'll conclude with thanks to our Commodore and Secretary for their efforts in organising the event. To Barbara in particular, and her calculator, in challenging and then reconciling the final bill. And on a personal note, to the many who commented on how well I am now looking. I know this wasn't just casual flattery and it was thus much appreciated as a welcome psychological boost. So much better than all those pills………………….