On Saturday 3rd January 1953 a group of water lovers who had a regular meeting in an Oxford pub or at The Maybush at Newbridge decided to form a cruising club. On the following Thursday 8 people met for an inaugural meeting. The first thing to do was to think of a name, the local rowers who heard about the possibility of a club using engines being formed had said they would be Ditchers, because their name for the Thames at Oxford was "the ditch", it was proposed that the club be called the Oxford Ditch Cruising Club and this was accepted.
The membership grew erratically, 20 by March 1953, 59 in 1962, 88 in 1967 and 135 in 1978. In the eighties the membership peaked at 175 but by then many older members were selling their boats. So there was a campaign to recruit new members and by 1989 there were 155.
In the early days boats were much more individual being mainly wood and mostly powered by petrol engines. Some were built and fitted out by their owners but gradually fibre glass came on the scene and boats became more standard and larger.
The first rally was held in June 1953 at Swift Ditch just above Abingdon and since then rallies have been held at various places on the river. In 1985 a 15ft square marquee was purchased which was replaced in the late 1990's with the present frame type tent.
The club has cruised the river extensively. In the early days cruises were mainly on the non-tidal river but slowly the call of the sea came and cruises started to go tidal and in 1979 13 boats went to St Katherine's Dock.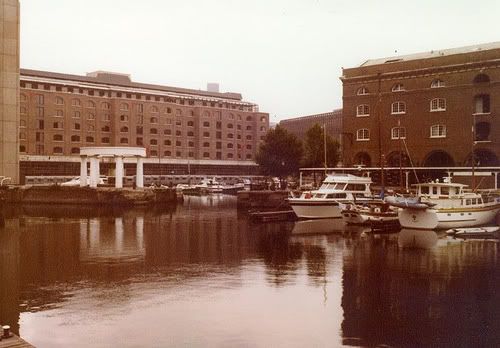 During the 90's many more successful cruises were undertaken to the Medway, Ramsgate and several boats went to Boulogne-sur-Mer including a Broom 30 with a cruise to Paris the following year and behond into the French canals.
The ODCC has even had members in the USA, one year the famous Block Island Race was won by an American Ditch member flying the ODCC burgee. The Ditch burgee was also flown for several years at the Antigua Race Week by a 60′ carbon fibre yacht that cost over $1 million to build in 1985.
The Club joined the Association of Cruising Clubs in 1953 when there were only 13 member clubs. Over the years success has been achieved in the boat handling competitions with team awards and twice winning the overall individual award.
Since 1995 the club has been a member of the Thames Vally Rally, but sadly this was discontinued in 2011 after many memorable events in which the Ditch enjoyed great success in the competitions.
The club continues to look forward with a varied programme of events.